Please check our calendar of events to find an available date and time for your event.

*We're able to host multiple events per day, so please note the times as well.
.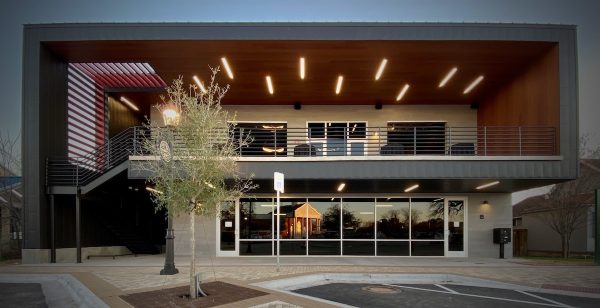 Located in the heart of vibrant Downtown Round Rock
305 West Liberty Ave (2nd Floor) • Round Rock • 78664 [MAP]
CENTRO offers a brand new, multi-functional, modern space with 16 foot ceilings and polished concrete floor. This contemporary venue was designed to host a variety of events.
Our open floor plan and functional layout allows us to accommodate any event, and provides hosts with the ideal canvas to customize each aspect of their gathering, and in turn create lasting memories with their guests. Centro's state of the art AV system helps in-person events reach a wider audience with virtual broadcasting.

Centro Features
Elevator access to event space

Lobby seating area
Outdoor covered balcony
Dynamic, unique lighting throughout

Event capacity up to 153
Large open floor plan
11ft mobile live edge bar
Buffet area with sink and refrigerator
14ft video wall

State of the art sound system
Wireless high speed internet

Ample wall and floor power outlets

Rental Packages
Bring your own caterer/food and alcohol beverages, no hidden fees
Monthly meeting
This package is perfect for businesses or organizations that meet on a regular basis. Secure at least 8 meetings in a calendar year and save!
Meetings must be Mon – Thurs before 3 p.m.
20% discount on hourly rate
Set up and cleaning included

Charity/Non-Profit events
Must show 501c3 status.
20% discount on hourly rate

Pricing Details
2 hour minimum booking for Monday thru Thursday.
4 hour minimum booking for Friday and Sunday.
5 hour minimum booking for Saturday.
Weekday rates (Mon-Thurs) - $250/hour
Weekend rates (Fri-Sun) - $300/hour
Late hour rates (12am-2am) $400/hour
Holiday rates (Dec) – additional $100/hour
Set up/Clean up fee- $200 to $300 depending on the size of party

*All rentals include: up to 80 folding chairs, 8 bar height stools, up to 10 bar height round tables, up to 10 rectangular (8ft) tables, 11ft mobile live edge bar, speakers podium, wireless internet and AV system.

Check availability.
Use the form below to share a bit of information about your event and request to a date for your event.
We'll review everything and respond as quickly as possible, so there's no need to call us once you've submitted the form below.
-------------------------
When you're ready to book your date with Centro, use the button below to complete your contract.